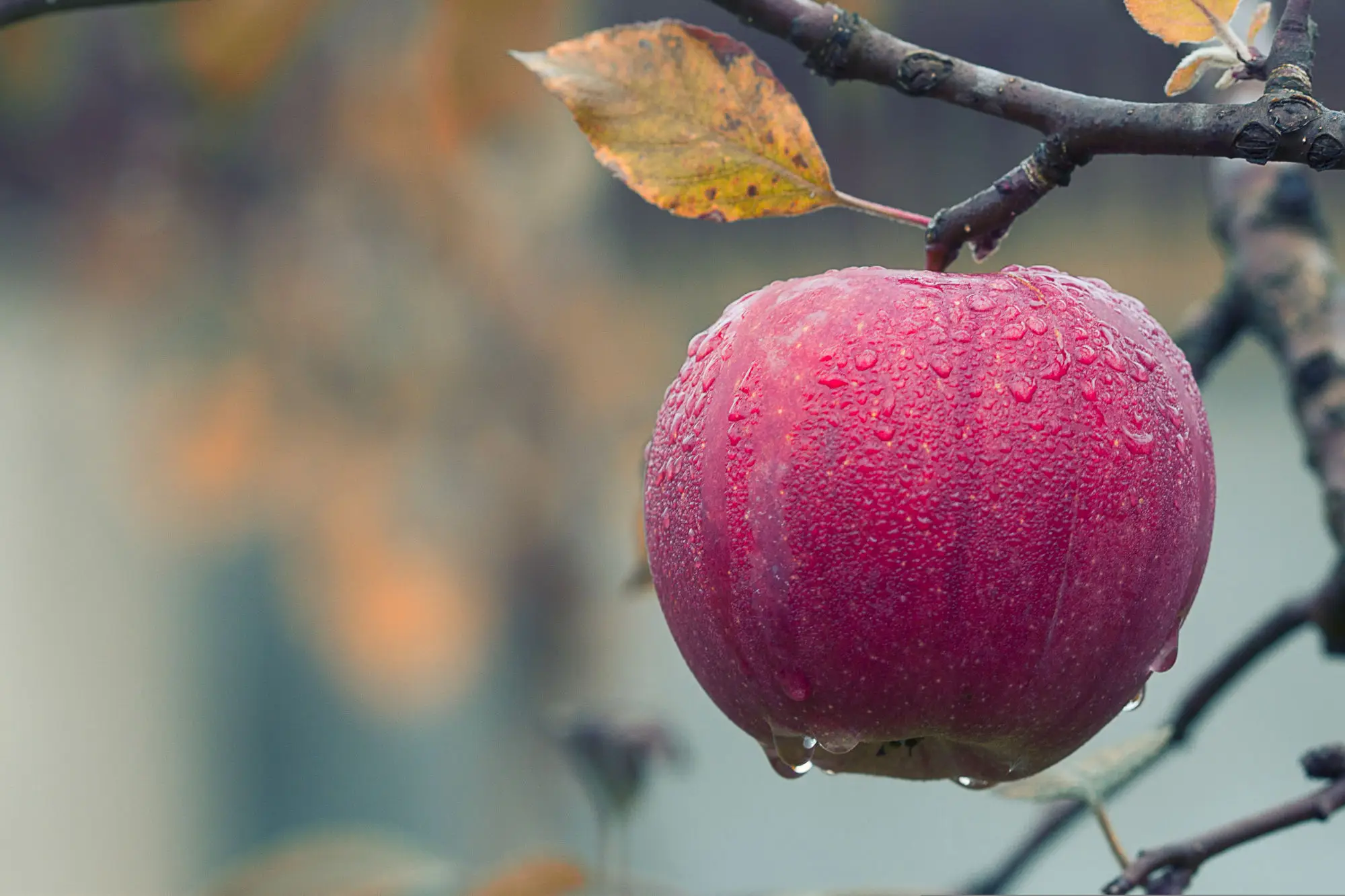 Limbertwig Apples!
At Hocking Hills Orchard, here at the Four Seasons Cabins, we grow many different varieties of Apples, Pears, Grapes and other fruit.
The apple varieties in this group all have a distinctive "weeping" tree form and a similar flavor. Most, if not all, originated in the southeastern United States.
They are great eating! More great tastes to try!
Apple varieties

(USA) A medium to large apple, deep dark red in color. Spicy and aromatic with rich, juicy, yellow flesh. Makesexcellent cider and apple butter. Ripens late September to early October and considered an excellent keeper.

---

Brushy Mtn Limbertwig

(North Carolina, USA) One of many fine old apples to have in originated in the Brushy Mt. Region of northwest North Carolina. A fine eatingapple with bright yellow skin with a dull red wash and some russet on the skin. Crisp, juicy flesh and highly aromatic. Good keeper. Tree is true weepingtype. Fruit ripens in October.

---


(Kentucky, USA) Originated in the Caney Fork region of the Cumberland Mountains of Kentucky.

---


(1800's Kentucky, US) Medium to large size light yellow covered with light red stripes. Crisp, white, juicy flesh. Light, sweet, mild flavor. Ripens in October.

---


(Tennessee, USA) Originated in the Cades Cove area of the Great Smoky Mountains National Park in Tennessee. Large, deep red and yellowapple with a distinctive flavor. A juicy, firm, aromatic apple which makes wonderful cider. Strong, vigorous tree with weeping growth habit.

---


(early 1800's Georgia, USA) Medium to large fruit with greenish-yellow skin washed with red. Typical Limbertwig weeping growth type. Great for pies, jelly and cider. Ripens in late October.

---


(USA) This is most likely the oldest of the many Limbertwigs and the best keeper of the group. The flavor improves greatly duringstorage. Fruit is medium in size with rough, greenish-yellow skin with a dull red blush on the sunny side. Numerous, large, brown dots visible on the skin. Ripens October to November or later.

---


(USA) This apple somewhat resembles the better-known Red Limbertwig but is a larger apple and does not store as well as Red Limbertwig. As described from growth trials at the University of Illinois Agricultural Experiment Station in 1896, Royal Limbertwig is a high quality fruit recommended for the home orchardist. It is well-adapted to warmer regions and is noted for making excellent apple butter. Fruit is large, roundish to conical with greenish-yellow skin mostly covered with a dull red blush and dark red stripes. The yellow flesh is fine-grained, tender andjuicy. Ripens October to November.

---


(1855 Greensboro, North Carolina, USA) Medium size fruit, pale yellow skin overlaid with pink and red stripes. Flesh is white, tender, juicy and aromatic.The tree has a true weeping growth habit. Ripens earlier than most Limbertwigs, ripening in August to September.

---


(USA) A very beautiful apple with a very appealing maroon color. Originated with early Swiss settlers in the Cumberland Mountains.

---


(USA) Victoria Limbertwig is one of the most flavorful of the many Limbertwig varieties and one of the most beautiful. It is a veryhigh quality dessert apple with a rich, smooth flavor. The tree is quite lovely with a true weeping growth habit. Fruit is round in shape with attractivepurple skin covered with numerous large white dots. The firm, crisp, yellowish flesh is highly flavorful and extremely juicy. Ripens in October and isa very good keeper.

---