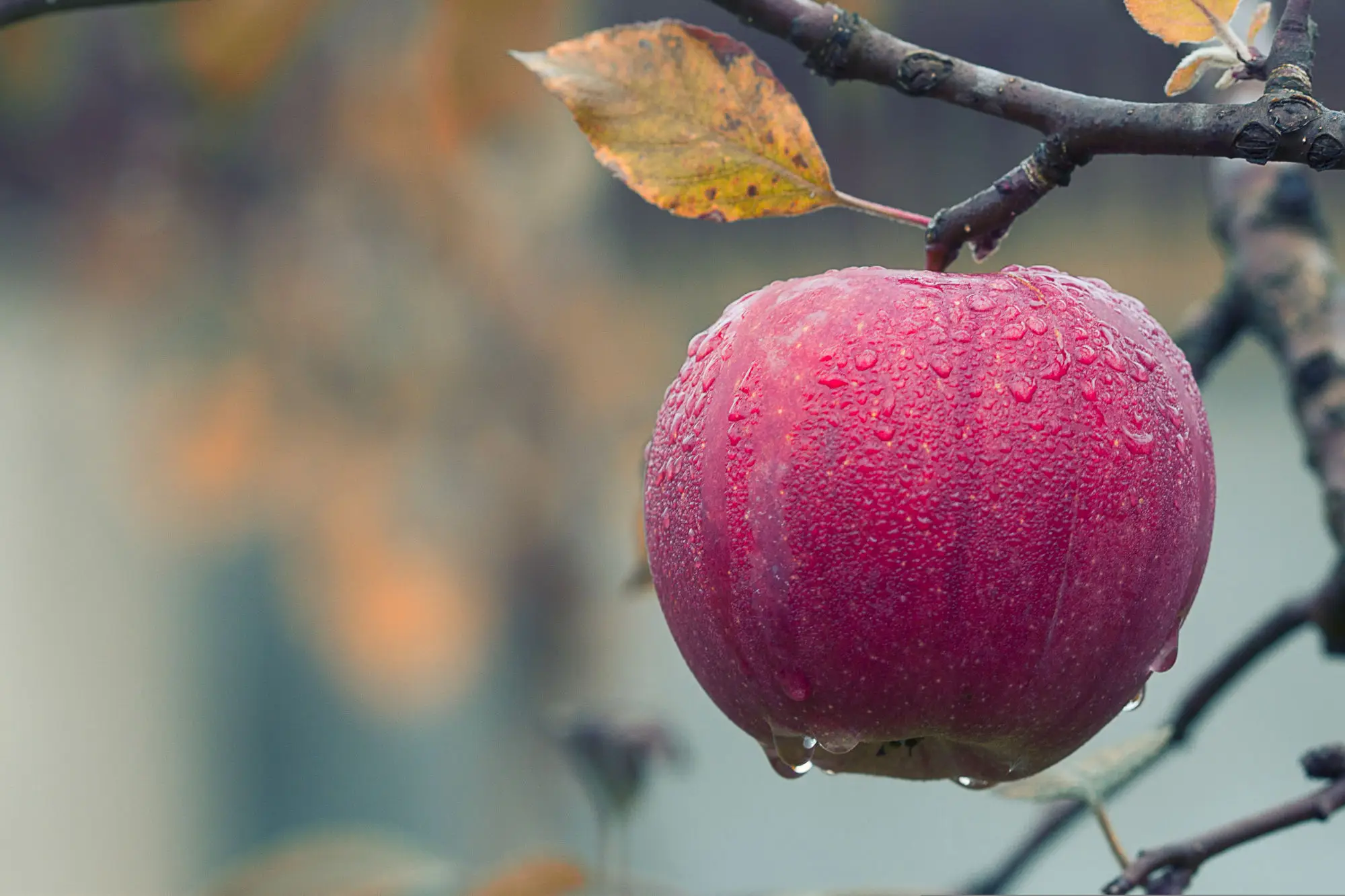 Russet Apples!
At Hocking Hills Orchard, here at the Four Seasons Cabins, we grow many different varieties of Apples, Pears, Grapes and other fruit.
The apple varieties in this group all have skin that is covered partially or completely with russeting. The flavor ranges from sweet-tart to very sweet to pear like. Not pretty to look at, they are also called "rusty coat" apples, but the flavor more than makes up for their looks.
At one time in American history russet apples were the most desired and wages were actually paid in cider made from russet apples. They are great eating. More great tastes to try.
Apple varieties

(early 1700's Gloucester, Englan UK) Medium size greenish yelllow fruit with brown flush, usually covered with arusset. Crisp, yellowish juicy flesh. Unique nut-like flavor. Ripens in October.

---


(pre 1880 England, UK) Small to medium size fruit. Golden brown russet often with black spots or markings. Very high quality. Ripens in October.

---


(mid 1700's Burlington County, New Jersey, USA) Seedling of English Russet. Medium size fruit. Gray-green to golden bronze with acoppery orange cheek, heavily splotched with light brown russet. Crisp, highly flavored, fine textured, very sugary yellow flesh. Use for cider,dried apples, fresh eating and cooking. Called the champagne of old time cider apples. Ripens in September and October. Revolutionary War soldiers weresometimes paid in cider made from Golden Russet apples.

---


(1931 Tangent, Oregon, USA) Large, elongated, high quality fruit. Smooth, dull yellow russet skin with a very long stem. Excellent dessert apple with a pear-like flavor. Discovered as a seedling along a fence row. Ripens in early October.

---


(known since 18th Century Gloucestire, England, UK)

---


(1930 Pennsylvania, USA) Russet-fruited mutation of Baldwin. Fruit and tree indistinguishable from Baldwin, except fruit surface totally russeted, tends to revert to normal red fruits.

---


(1785 Witley, England, UK) Thought to be a seedling of Golden Pippin. Small golden russet apple with a very distinctive strong flavour.

---


(1802 Meath, Ireland) Medium size fruit, skin pale yellow flushed deep orange with carmine streaks, nearly covered with russet. Fleshfairly crisp, tender, fine. Flavor sweet, aromatic. High quality dessert apple.

---


(early 1600's Roxbury, Massachusetts, USA) Large greenish, sometimes bronze tinged skin almost completely covered with yellowish brown russet. Firm, slightly coarse, yellowish white flesh. Remarkable for its amount of sugar. Excellent for eating fresh, cooking and cider. Ripens in October.

---


(1870 Bury St. Edmunds, England, UK) Also called St. Edmund's Pippin. Medium to large size fruit. Considered the most beautiful of all the russet apples. Uniformaly flat-round shape, entirely covered with a flawless, smooth, pure fawn russet. Very juicy, crisp, yellowish flesh. Rich pear-like flavor. Makes excellent cider. Listed among the six best apples of England. Ripens in early September.

---


(1817 Gloucestire, England, UK) Medium to large size fruit.

---

Whitney Russet King

(1918 USA) Russet-fruited periclinal chimera mutation of Tompkins King. Same as Tompkins King, except a portion of the fruits arerusseted, the rest normal.

---


(1885 Germany) Large fruit, skin 100% russet. Flesh firm, nearly white. Flavor slightly acid.

---