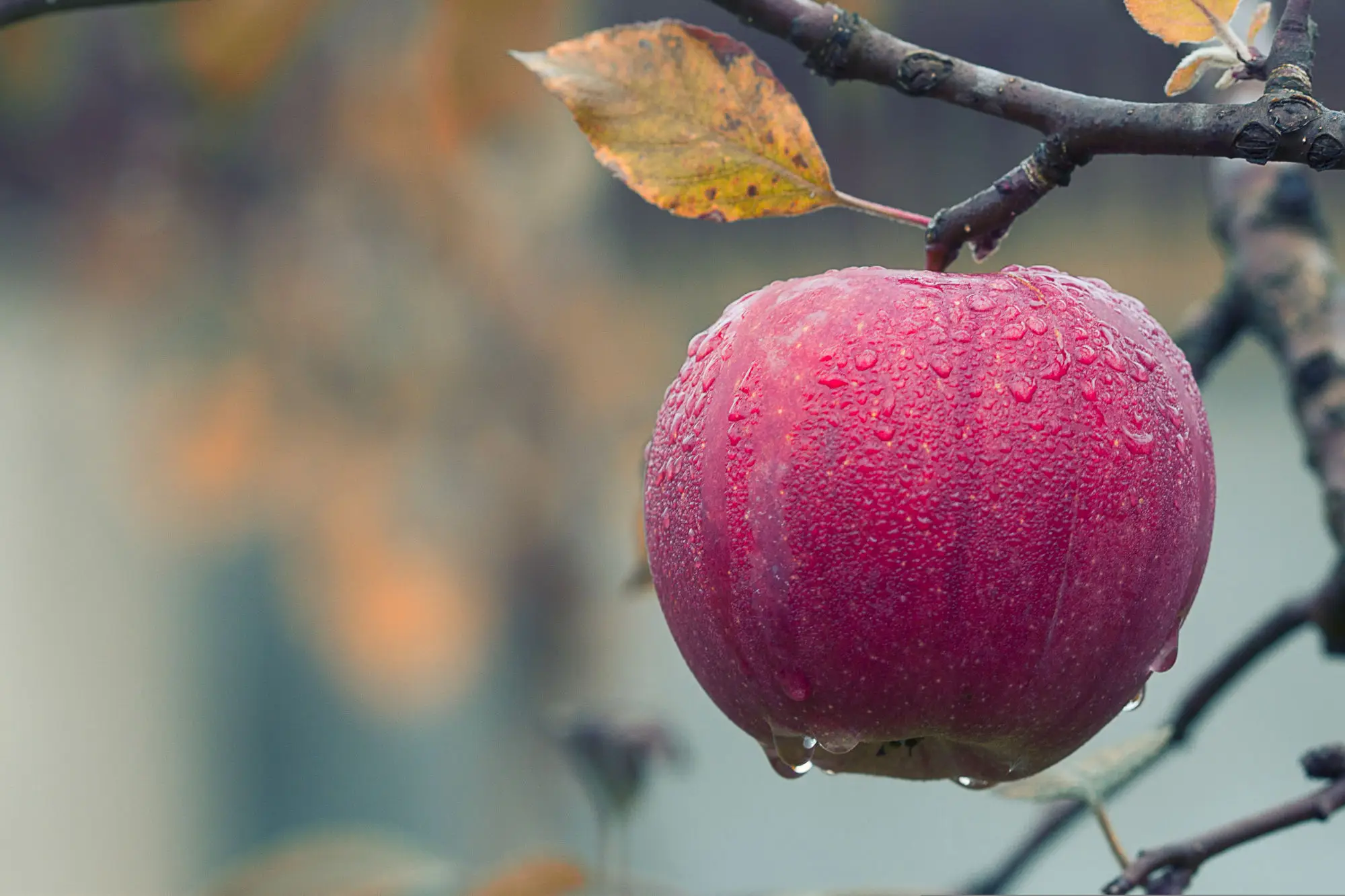 Pippin Apples!
At Hocking Hills Orchard, here at the Four Seasons Cabins, we grow many different varieties of Apples, Pears, Grapes and other fruit.
The apple varieties in this group all have "pippin" in the name. Pippin is an old word that means "seedling". The flavor ranges from sweet-tart to very sweet to pear like.
They are great eating. More great tastes to try.
Apple varieties
Berkeley Pippin

(Gloucestire, England, UK) This once well regarded dessert apple was thought to be extinct, until located and rescued for the Gloucestershire applecollection. Also known as Dafferton.

---


(1825 Buckinghamshire, England, UK) Ribston Pippin x Blenheim Orange. Medium size fruit, shape intermediate, truncate-conic, convex, not ribbed. Skin golden yellow flushed brownish red, faint striped russet. Flesh tender, crisp, yellow. Flavor sweet, slightlysubacid, aromatic. Richly flavored dessert apple. Ripens from mid-Sept to mid-Oct.

---


(1806 USA) Possibly a seedling Holland Pippin or White Spanish Reinette. Large size fruit. Yellow-green skin with some dull orange blush. Flesh firm, cream-colored. Flavor subacid. Ripens mid-October.

---


(1629 Sussex, England, UK) Medium size fruit. Shape intermediate, rectangular to truncate-conic, convex, not ribbed. Skin golden with a deeper tinge, dotted with russet and white. Flesh firm, crisp, yellow. Flavor sweet, subacid, rich, good for cider and dessert. Ripens Sept.

---


(1759 USA) Medium to large fruit. Solid pale green skin. Juicy, tart, crisp white flesh. Thought to have been extinct but was discovered growing along a city street in Oregon. Recognized by the distinctive "corkscrew" branches. Ripens mid-October.

---


(1817 but thought to be much older Isle of Wight, UK) Small size fruit. Shape rectangular to truncate conic, convex, not or very slightly ribbed. Skin yellow orange with small russet patches, a little rough greasy. Flesh firm, white tinged green. Flavor slightly sweet, slightly aromatic. Ripens in October.

---


(1802 Ireland) Medium size fruit. Skin 30-70% red, blushed. Shape round conic. Flesh hard, cream-colored. Flavor subacid. Ripens early September.

---


(1862 but much older England, UK) Medium to large size. Shape intermediate to tall, conic, convex not ribbed. Skin greenish yellow flushed red with some brown russet. Flesh firm, crisp, white tinged yellow. Flavor sweet, rich vinous. Ripens in late September. One of the best late dessert apples.

---


(1700 England, UK) Medium size fruit. Shape tall, truncate-conic, convex, often a large protuberance at stalk, not ribbed. Skin yellow, dotted. Flesh firm, crisp greenish white. Flavor acid. Ripens in October.

---


(1700 England, UK) Medium size fruit. Shape tall, truncate-conic, convex, often a large protuberance at stalk, not ribbed. Skin yellow, dotted. Flesh firm, crisp greenish white. Flavor acid. Ripens in October.

---


(1580 Essex or Norfolk, England, UK) Large squat fruits have crisp, white, acid flesh.

---


(1861 England, UK) Medium to large size fruit. Shape flat to intermediate, rectangular, convex. Flesh tender, yellowish white. Flavor subacid, like pineapple. Ripens in late September.

---


(1707 Yorkshire, England, UK) c1707 from a seed brought from Rouen in France by Sir Henry Goodricke. The original tree was blown downby wind in 1810. Supported by stakes it survived and continued to produce fruit until 1835. When the tree eventually died shoots grew from the roots toproduce a new tree which survived until 1932. The variety was first listed in 1769. Reputed to be the parent of Cox's Orange Pippin. Medium to large sizedfruit. Brownish red flush and stripes over olive green and yellow skin give the fruit a lovely autumnal colour. Pale yellow, fairly dry crumbly flesh.Strong, aromatic flavour.

---


(1831 Suffolk, England, UK) Ribston Pippin x Nonpareil cross. Medium to large size fruit. Fruits have very firm, fine-textured,juicy flesh with a little subacid and rich aromatic flavour.

---


(1800 Devon, England, UK) Medium to large size fruit. Shape tall, rectangular to truncate-conic, convex, ribbed on body, fairly prominently at apex. Skin pale yellow-green, faint pinkish brown flush, dotted, rough. Flesh tender, soft coarse, creamy white. Flavor slightly sweet, slightly acid. Ripens in late August.

---